The whole school went to Duncombe Park on the 5th of November for a school trip. At Duncombe Park we went to the gardens it was very silent, the only thing that you could hear was the rain dripping on the leafs and the birds tweeting calmly.
We walked to a temple that was old and crumbeling. At the temple was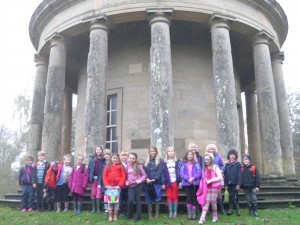 an amazing view, it was great. There was a flowing river at the bottom and a hill of orange and green trees making there way up. We also saw a pineapple house a pineapple house is where you grow pineapples. They did this becase they were very exspensive they use to give them to friend and family to display at parties.